Comic-Con, I feel is getting busier and busier each year. Despite that, it's fun walking around and seeing what people decide to dress up or "cosplay" as. I dressed up as Kiki from Kiki's Delivery Service. This is actually my first time dressing up and it was exciting. I threw everything together in a couple of days before attending Comic-Con. So, if you're like me, someone who does procrastinates and doesn't plan ahead, this is a simple costume to get you started.
I remember first watching Kiki's Delivery Service on the Disney channel back in the day. I thought it was just any American animated film, not knowing that it was a Japanese film created by the amazing, Hayao Miyazaki! By the way I love all the Studio Ghibli Films!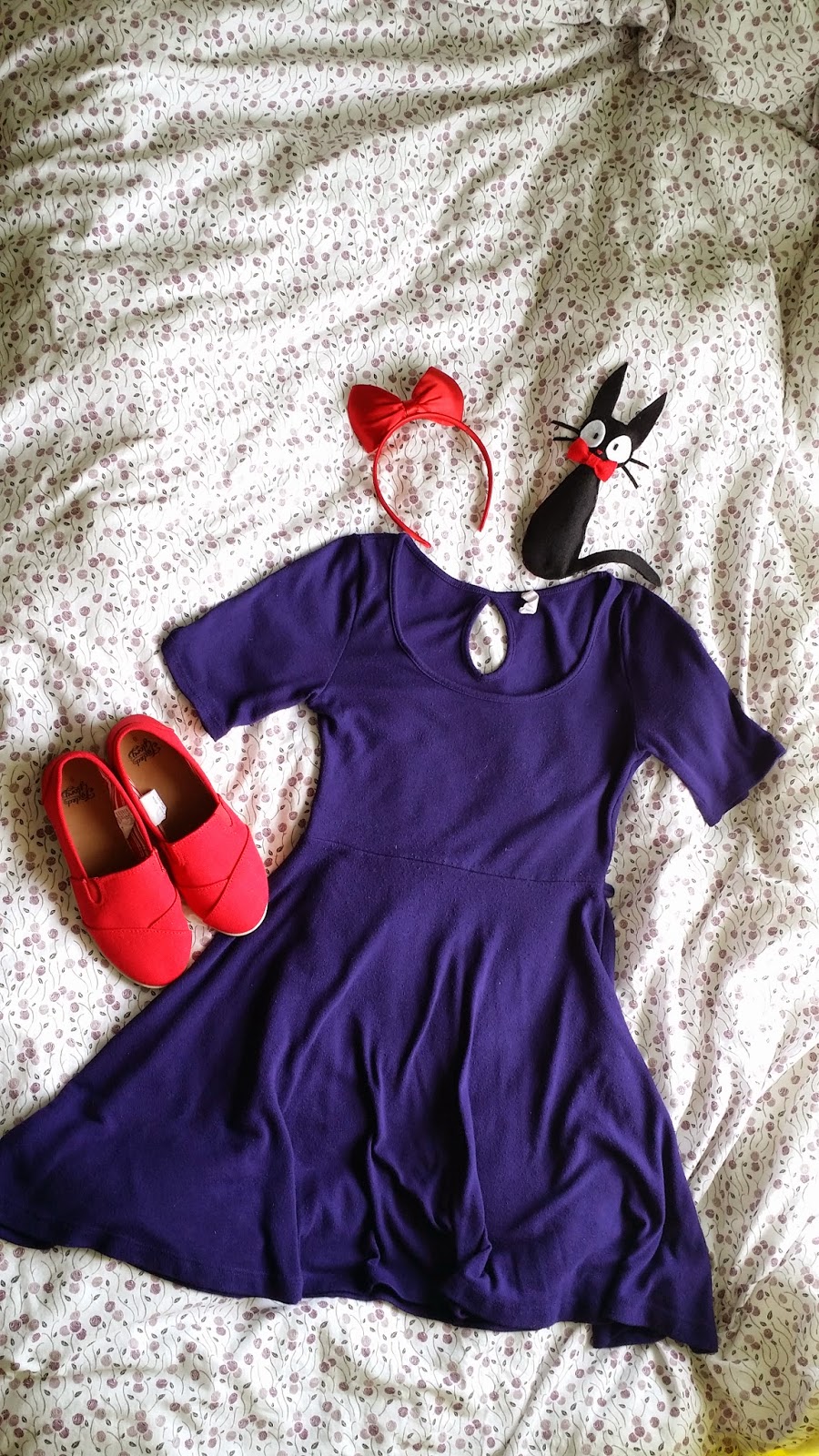 Now, onto the costume. For the dress, you'll need to find a deep purple colored dress. I already had this dress lying around in my closet, which was perfect. If you can't find a similar dress in stores, there's always sewing a dress for yourself. Next, you'll need to find some red shoes. I didn't own a pair of flat red shoes, so I had to buy some. I got mine from Wal-mart and it was about $10. I opted out for the canvas shoes. They're much more comfortable walking in compared to ballet flats. And let me tell you, you'll be doing a lot of walking in the big exhibit hall and getting around downtown. Now all that's left is the red bow and Jiji, Kiki's black cat. I got the red headband with a bow from Claire's for about $7. The bow was actually laid flat on the side. I simply removed the bow that was originally glued on then adjusted it to sit on top of the headband. I glued it down with fabric glue and ta-da, a red bow on your head. Jiji was the only thing that was a little time consuming since I had to make it. I have to say, it turned out pretty good! I'll have a DIY tutorial out soon on how to make Jiji.
This was my complete Kiki costume. You can also throw in broom and brown satchel to complete the look, but I just wore my Rilakkuma backpack. I didn't want to lug a broomstick around all day since I'll be walking and carrying things in my hands. For Kiki's hair, you can choose to wear a short, black wig, but I decided to wear my hair down since it's already black. I did try to fake the short hair using a few tutorials on Youtube, but my hair wouldn't stay put. There were strands falling out and getting caught on Jiji. Props to you if you're hair is already short! If you do want to try faking the short hair, do a Youtube search: 'Fake Short Hair Tutorial' I like the video tutorial by Binosusume Machin.
Share with me your thoughts about the costume, if you like Studio Ghibli films or just say hello!